Raspberry pork medallions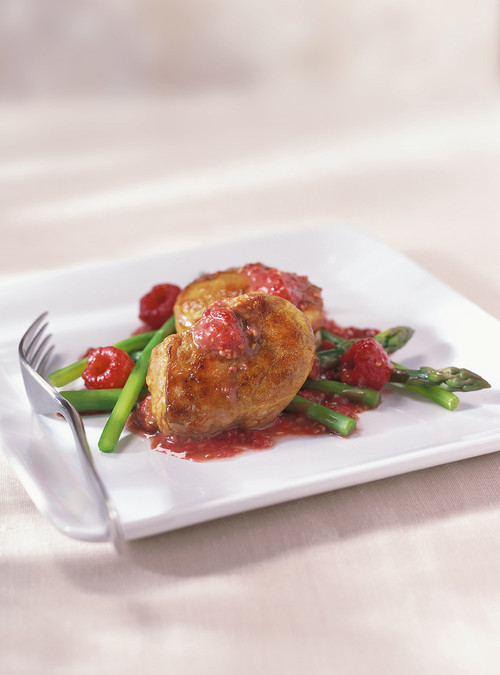 INGREDIENTS
2 pork tenderloins
Flour
15 ml (1 tablespoon) of olive oil
30 ml (2 tablespoons) of butter
1 onion, finely chopped
1 garlic clove finely chopped
5 ml (1 teaspoon) of honey
5 ml (1 teaspoon) of raspberry vinegar
125 ml (1/2 cup) of chicken broth
250 ml (1 cup) of fresh raspberries
Salt and pepper
PREPARATION
1. Place the grill in the center of the oven. Preheat the oven to 180 °C (350 °F).
2. Slice each tenderloin into 6 medallions. Slightly flatten and flour each medallion.
3. In an ovenproof skillet, heat the oil and butter. Add the medallions and brown them for about 1 minute on each side. Add salt and pepper. Save for later.
4. In the same skillet, soften the onion and garlic. Add honey and cook for 1 minute. Deglaze with the vinegar. Add the broth and 125 ml (1/2 cup) of raspberries. Cook 1 to 2 minutes.
5. Replace the medallions in the pan. Cook in the oven for about 10 minutes. Add the remaining raspberries. Adjust the seasoning.
6. While serving, add some sauce on the medallions. Serve with asparagus.